I was cleaning up the other day and found a small stack of old comics I bought years ago for 50 cents each. The best part of old comics isn't the stories (in this particular case, Batman takes 4 pages to heroically beat up a blind man), but the ads. Take the specimen on the left for example - a full page ad inviting all comers to Join the World of Steven Seagal.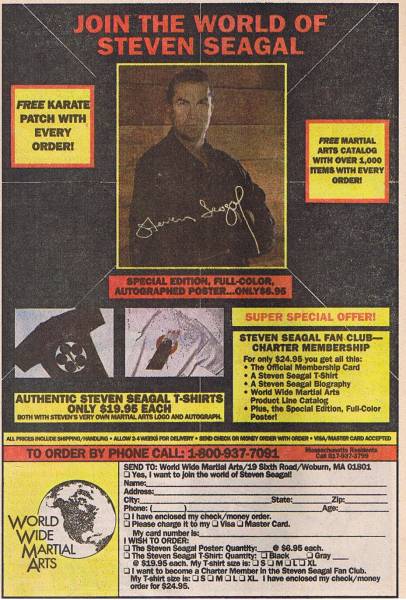 Back in 1991, this might have seemed an attractive proposition. But like comics, action stars do not age well, and Seagal's stock has sunk somewhat in the intervening years. From his breakthrough movie, Under Siege, it has been a long slide from dizzying heights of mediocrity into the pits of straight-to-DVD hell.
I do not know what The World of Steven Seagal looks like these days, or whether entry to it is still worth $24:95; but judging from it's founder I would bet it contains a few too many fast food outlets and not nearly enough hairdressers. The following table displays the breadth and extreme depths of Seagal's movie career to date:
1: This would be a typical Seagal movie except that he gets unexpectedly killed about 25 minutes into it. This only improves the movie marginally..
2: Here Seagal is more of a special guest star, playing the comparatively minor role as the bad guy's unbeatable fighter.