It's Easter, and that means the terrible spectre of Jazz once again haunts the land . These days it seems you can't move 6 feet during Easter without wandering into an extended guitar solo or quasi-funky drum break. Luckily, the highest concentration of Jazz in Auckland is quarantined on offshore islands, most famously on Waiheke. But recently it has spread to other islands as well.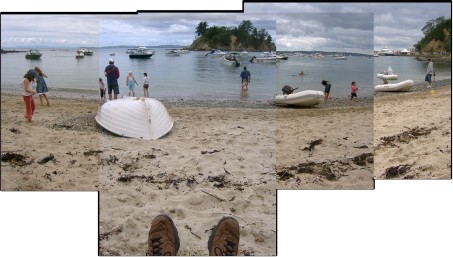 This is one of the beaches on Rakino Island, site of the lesser known Rakino Jazz Festival. I am sorry to say that I was unaware that Rakino Island even existed up until a couple of days ago, hidden as it is behind Waiheke but only a short ferry ride from Auckland. The island is tiny, only about 1.5 km long and less than a km wide, and fairly hilly, but there are still about 60 houses (including some very nice holiday homes) around.
The weather held out for the day, and the music was actually pretty decent. There a worse ways of spending a warm Easter Saturday, and I can look back in the knowledge that almost an entire year before any more Jazz festivals.