I just found out that the The National Library of New Zealand has a Flickr photostream. One thing we don't have in New Zealand is a lot of history, so it is great that this kind of material is being made available, the images are even available for reproduction on the web.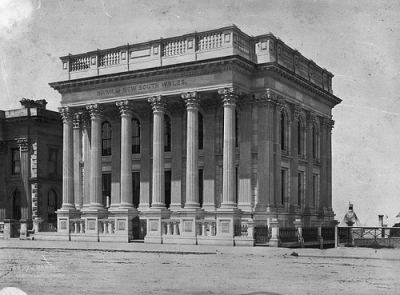 Bank of New South Wales, Oamaru. Built 1884, photographed c.1885 Unidentified photographer Reference number: 1/2-055305-F Black and white original negative Photographic Archive, Alexander Turnbull Library
Here is the Bank of New South Wales building in Oamaru, built during the heady days when Oamaru had a decent port and was flush with money (an era now known as a-very-long-time-ago.) The building is still a bank (or at least it was when I lived there, a decade ago), although it is now a National Bank branch.
Oamaru has a whole lot of this style of architecture, and it gives the town a certain permanence which sets it apart from the other towns that dot the South Island coast. The other thing we don't have enough of in New Zealand is regional diversity, most of our small towns (and even cities) are pretty much interchangeable, so even the faded glory of Oamaru makes a nice change as you drive down SH1.