I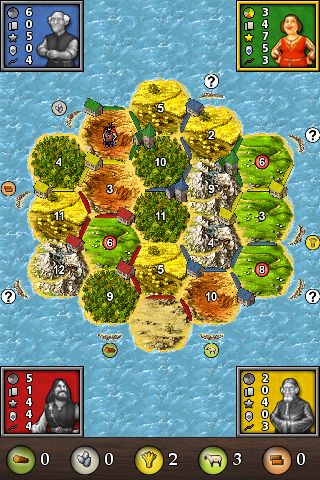 Settlers of Catan - The First Island screenshot love the Settlers of Catan board game, so when an iPod version appeared in the App Store for $6.49 I grabbed it straight away. Dubbed "Catan - The First Island", the app includes everything in the core game, I assume more games based on the Catan expansions are on the way.
The app plays a pretty good game, the interface is fairly straight forward and trading between players is handled well. Some rule variants are supported, like starting with a city instead of a settlement or different point targets. There are even different ways of distributing the resources for wusses who can't take random chance. The computer players put up a fair challenge, and you can play hot-seat multiplayer but there is no internet play - an obvious omission.
Unfortunately, Catan also has some fairly annoying flaws. Firstly, the game is buggy. On both my first two games the computer player refused to finish its turn, leaving aborting the game the only option. The other 3 games I have had have worked smoothly so I still don't know what I did to trigger that bug. Loading a saved game also sets some of the options back to the default, which is a pain but not game breaking.
Speaking of saved games, Catan does not automatically save your progress when you dismiss the app to go back to the iPod main menu. When you re-enter Catan it pops you back at the title screen with no way to resume unless you manually saved the game, something you can only do during your turn. This is intensely annoying, not to mention against Apple's App guidelines and I hope the fix this if nothing else in an update.
The graphics are just OK, they get the job done without being very attractive and the board animation looks terrible. The whole package seems just a little unpolished - it works but needs just a little more attention to detail. The only thing that really saves Catan as an App is the mechanics of the game itself, which still shine. Perhaps after an update or two "Catan - The First Island" will reach its potential, but right now it is only for die-hard Catan fans.
A disappointment, only recommended if you like this sort of thing.