I have lived in Auckland for 14 years and never been further north than Waitangi . A trip north was long overdue.

This is the view from Opononi, looking across the mouth of the Hokianga Harbour towards the giant dunes. For $25 you can catch a water taxi to the other side where you can get dropped off with a board perfect for sliding down the steep banks. It sounds painful, but the sand is very soft and you can easily control your speed if not direction.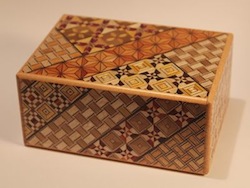 Puzzle boxOn a whim, we went to a slightly out-of-the-way shop called Labyrinth Woodworks & Maze (that isn't a link, it's a time corridor back to 1996) which turned out to be quite a find. It is a small building filled with the most amazing collection of puzzles and brainteasers I have ever seen, curated by a very passionate puzzle-lover who was only too keen to demonstrate his wares.
I have wanted a Japanese Puzzle Box ever since I saw one in a book when I was a child. Now I have one - it takes 10 cunningly concealed steps to open. If I ever go back to Labyrinth Woodworks I will buy the deluxe 21 step box.
Down the road a little way is Waipoua Kauri Forest, home to some very large trees including Tãne Mahuta, which is very, very large indeed.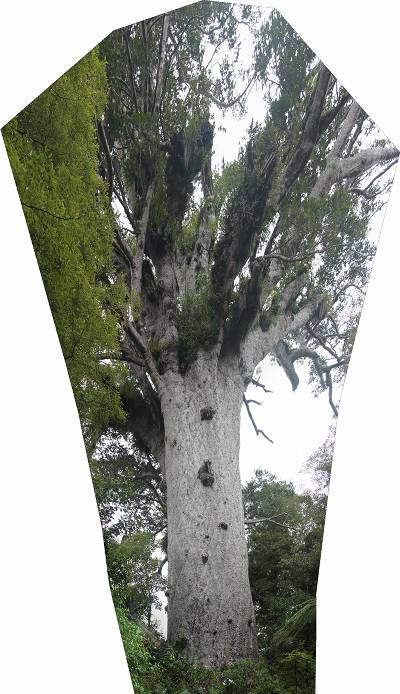 This is a terrible photo-montage I stitched together using Hugin, it in no way conveys just how big this tree is. I kept expecting a bunch of blue-skinned Navi to show up to defend it.
Sunday night was spent in Doubtless Bay, which was also very nice but not quite as wild and interesting as the west coast. We did take the time to visit Cable Bay, a beautiful beach with pink sand. It is supposed to be packed in Summer, we found it almost deserted (which suited us just fine.)