It has been many year since I visited Rangitoto - the can't-miss-it island just outside of Auckland Harbour. With a fine autumnal day off work it seemed like time to return.

Although I had been there a few times before, I am always surprised by the size of Rangitoto - it seems much larger up close than it does from Mission Bay and the distances between landmarks is greater than you might think. Avoiding the tourists boarding the motorised summit explorer, we took the little trod coastal track that leads eastwards towards Motutapu. Trees have grown over much of Rangitoto but there are still large patches of bare volcanic (and shoe destroying) rock. We didn't see many birds, but there lots of tiny lizards warming themselves on the rocks.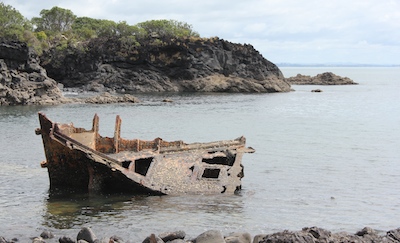 The remains of a ship at Wreck BayA brisk 2 and bit hours brought us to Wreck Bay (also called Boulder Bay on some maps), on the far side of the island from the wharf. Here several ship were deliberately run aground to dispose of them. This practice stopped many decades ago, but you can still see the bones of some of these ships lying in the water just off shore.
From Wreck Bay we headed for the summit via the service road, a climb of 260 metres that seems harder due to the rocky ground. The top affords great views of Auckland and the Hauraki Gulf is you can see passed the thronging tourists, and the crater is impressively deep - well worth the climb.
But the real highlight of Rangitoto is the collection of lava tubes on the way back to the ferry. There are several tubes, some dozens of metres long. Most caves in New Zealand are carved by water through limestone, lava tubes have quite a different feel to them and the cool subterranean air is a welcome change from the sun blasted rock above ground. I was hoping we might see some cave wetas, but if there are any on Rangitoto they were hiding.