The weather has been improving in Auckland recently (February is usually the best month around here), so a few friends and I decided to see the sights at Bethells Beach . Auckland is blessed with many fine beaches, Bethells is not one of the most popular but has its own charm. More importantly for us, it is the start of the
Te Henga Walkway, which we had heard was spectacular.
And so it proved to be: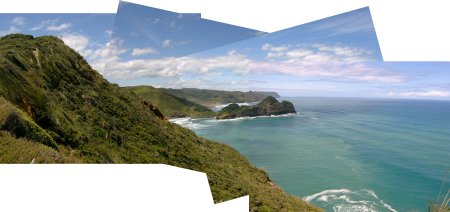 The track is quite long, we only walked for 90 minutes and saw only a fraction of it before retreating to the beach for a swim. The views are fantastic, but the price for clifftop vistas is steep, if you get my drift. The track itself is well formed and not muddy at all, unlike many of the west coast tracks, but a certain level of fitness is required to enjoy the view.
Bethells Beach itself is lots of fun. Like the other west coast beaches it has plenty of surf, but something in the shape of the beach means that the waves come from all directions instead of rolling in from the horizon, so there are not too many surfers in the water (they all seemed to be in the bay next to Bethells, we could see them from the track). The random wave action makes the water quite foamy, almost like swimming in an enormous spa bath.