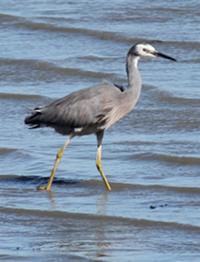 In my quest to reach new parts of Auckland, I traveled the short distance to the jewel in the glittering crown of Mangere Bridge - Ambury Regional Park.
Parts of this park are a farm which is not very interesting for adults, but there is an excellent foreshore walk that takes in some nice bird sanctuary areas with a lot of wading birds.
Being flat and next to mudflats, Ambury Park is not the most scenic of places (and part of the park consists of the old sewerage settling ponds, now covered in suspiciously lush grass) but it does make for a relaxing walk in the sun passed paddocks of sheep and through small stands of native bush. I am glad I went.