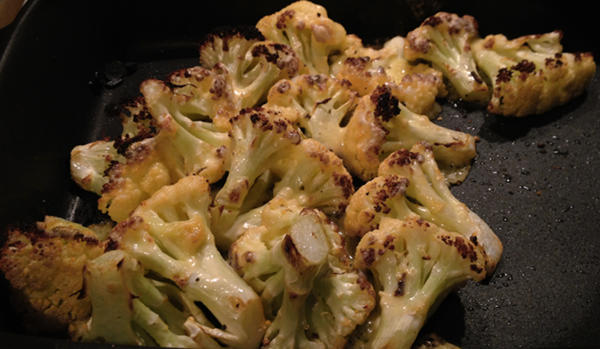 I have been blessedI think that is the word I want with an abundance of cauliflower from my garden. Cauliflower is OK, but it is not the most exciting vegetable and it can be a chore to use it all up. Fortunately, I have discovered a new (to me at least) way of cooking it that is quick and tasty. This recipe works best with fresh, firm cauliflower.
Ingredients
Cauliflower, half a head is enough for 2 side portions
2 or 3 cloves of garlic
Olive Oil
Salt and Pepper
Strong cheese such as Tasty or Parmesan
Method
Preheat the oven to 200°C. Cut the cauliflower into rough florets. Slice the garlic thickly. Place the cauliflower into a oven safe dish and pour just enough oil over the top, but not too much. Toss the vegetables to coat with the oil and sprinkle the salt and pepper to taste.
Chuck it in the oven. After 15 minutes the edges of the cauliflower should be turning dark, gently toss the florets to turn them over.
Slice the cheese thinly - cut enough to roughly cover the cauliflower. At the 25 minute mark, take the dish out of the oven, toss again, then place the cheese slices over the cauliflower pieces. Put the dish back into the oven for a couple of minutes or until the cheese is bubbling.
Serve hot.