For years one of my favourite eating places in Auckland has been the Food Alley on Albert Street . You can keep your fancy French restaurants and elegant cafés, turns out what I really want is tasty food served quickly with a prison-like ambience. Proximity to the Food Alley was actually a factor in my choice of current employment, I recommend the clay-pot joint or the Vietnamese place for first time patrons.
But sometimes the Food Alley is a little too flash with its well organised stalls and excellent drinks bar. Perhaps it has moved up-market in recent years, or maybe I am moving down. Either way, if excellent choice in a crummy atmosphere is what you desire then the International Food Court underneath the Strand Arcade off Queen Street is ready to take your order. Right off the bat the International Food Court ups the terrible ambience stakes by being situated in a basement, the Food Alley can't compete with that masterstroke.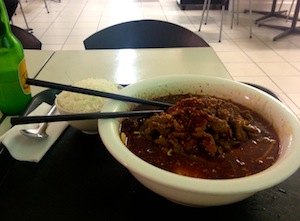 This is Beef Soup with Hot Chilli Oil , my new favourite dish, served up from the Chinese stall on the extreme left as you come down the stairs (I think it was #4 on the menu). It is a hot, very peppery soup with scallions, sprouts, and beef served under a layer of oil which is itself infused with chilli. It sounds odd, but tastes fantastic. One day I will muster the courage to order it "hot" instead of "medium", but even at reduced potency it takes until mid afternoon before the feeling comes back into my tongue.