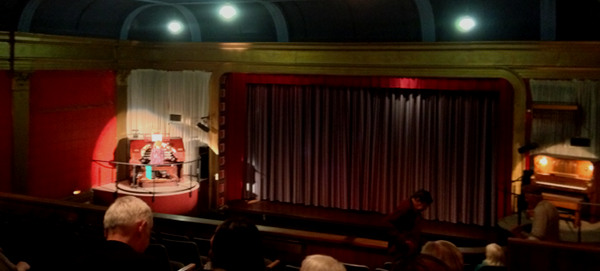 Jan Grefstad's Hollywood Cinemaits full title, I don't know who Jan Grefstad is is a charmingly untouched cinema on Avondale's main street. Most of Auckland suburban cinemas have long since been demolished, re-purposed, or remodeled into high-class boutique cinemas, but the Hollywood has remained more or less untouched. I think the seats are modern, but the layout in exactly how I remember in the old cinemas - a "circle" balcony above a larger area for the stalls.
The Hollywood's main claim to fame is its huge Wurlitzer theatre organ, a fantastic beast of a thing. The pipes are hidden in rooms behind the screen, and it is capable of all sorts of fantastic sounds - from bells to drum rolls. It can also remotely play the piano on the other side of the stage. The best part is that the whole console is on an elevator, raising up out of the stage with the organist when needed.
Today I went along to see the Wurlitzer being played by a professional organist accompanying Charlie Chaplin's silent film, The Gold Rush. The organ was put to good use, providing wall to wall music in every scene of this entertaining film. It is not something I would do all the time (I am not quite in the target demographic just yet) but it was the perfect way to spend a rainy Sunday afternoon.