Jiro Horikoshi is a young boy in provincial 1910s Japan when he realizes that his mission in life is to design airplanes . Becoming a top class engineer just in time to join Japan's struggle to become a first-world nation, Jiro's designs will be needed for certain national ambitions.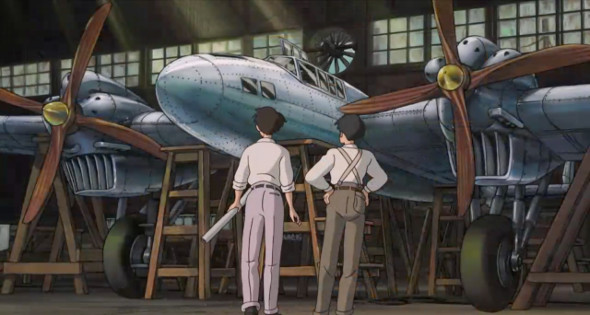 The Wind Rises (風立ちぬ) is the latest film from Studio Ghibli and director Hayao Miyazaki, and it fits right in with the best of Miyazaki's work. Although serious in tone and completely non-fantastical (except for a few dream sequences), it has the same gentle almost fairy-tale quality as earlier films such as Spirited Away. The the story moves gracefully along and artwork is top-notch, every frame could hang in a gallery. I particularly liked the way that the motion of air was portrayed, almost every scene has waves of grass in motion or smoke lazily drifting, very befitting for a film concerning an aviation engineer.
Viewers expecting a hard hitting film about the build up to WWII will be disappointed, the film doesn't exactly skirt around the issue as it is just not interested with telling that story. The coming war is alluded to, and the changing nature of Japan's ties with Germany comes into play at certain points, but the focus is firmly on the struggle to create in the face of great obstacles. That fact that the creation is a war machine is only lightly touched on.
This is not really a criticism, The Wind Rises is about mostly about creating rather than the thing created and it succeeds in its goal. However there does seem to be a large WWII shaped-hole leaving a slightly disjointed tale. But that disjointedness does play into the dreamlike feel that the film seems to be going for.
Moving and beautiful, The Wind Rises is worth watching. Highly recommended.