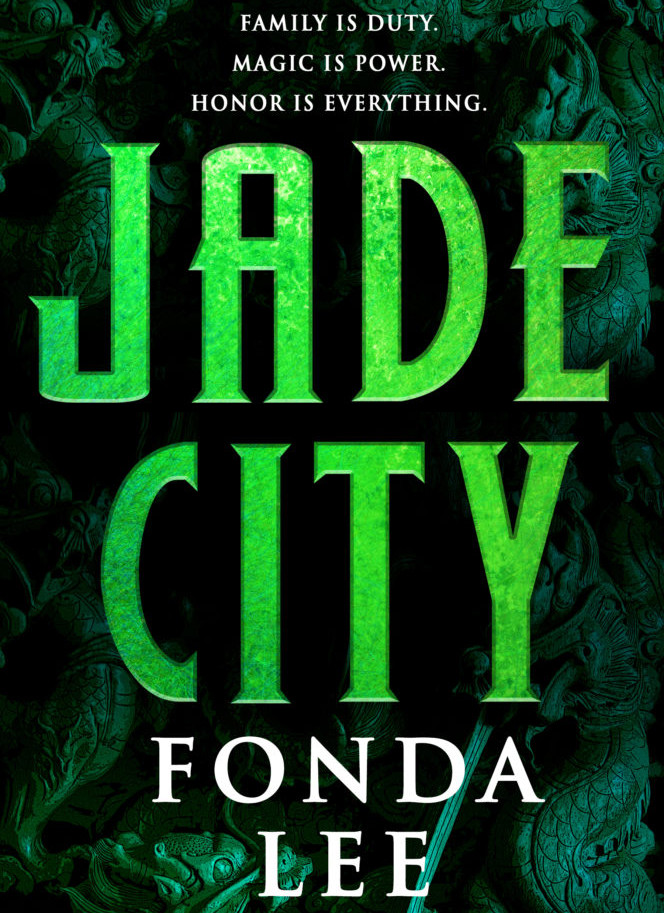 Jade City
By Fonda Lee
Published 2017 by Orbit
ISBN 978-0316440868
Nebula Award finalist
Locus Award finalist
Author's Site
...it was ridiculous that such a corpulent, aging drunk was a Green Bone. True, Shon had only a little jade on him, but unimpressive as he was, sooner or later someone would take it, along with his life perhaps. And why not me? Bero thought. Why not, indeed. He might only be a dockworker's bastard who would never have a martial education at Wie Lon Temple School or Kaul Dushuron Academy, but at least he was Kekonese all the way through. He had guts and nerve; he had what it took to be somebody. Jade made you somebody.
Janloon is the capital of a rapidity modernizing third-world country. It would be an unremarkable city--except for the jade that gives people supernatural powers so long as they process the required racial affinity for the stone. Everyone else goes crazy.
The city is ruled by powerful clans who control the supply of jade (and almost everything else in the city) through violence. It's a system that has worked pretty well, but now the Mountain Clan strives for total domination over the streets, the jade, and the new drug that lets foreign devils use their precious resource without madness. Can their rivals, the No Peak Clan, survive?
Jade City is a hoot. Lee has crafted a world in which mafia-like groups vie for supremacy with Jedi-esque martial arts, aided by the mysterious jade. The novel follows the fortunes of No Peak's ruling family, each larger-than-life character is well described and relatable even when making very bad decisions. The plot plays out exactly like you would expect - betrayal, family drama, a character dragged back into clan business after leaving years ago, long speeches about loyalty, and lots and lots of violence. Think Goodfellas meets Crouching Tiger, Hidden Dragon and you have a pretty good idea.
With so many characters running around, the city itself is more or less the protagonist. Its geography, geology, climate, history and politics are all important plot points. By the end of the novel I felt I could navigate around Janloon from memory.
Although I generally enjoyed Jade City, I was frustrated by a few things. The setting is so carefully wrought that I was disappointed that the author hadn't used it to tell a more substantial story. There are solid themes of oppression (racial, political, and economic), and inexorable change lurking just under the surface but the plot is solidly focused on the (admittedly kick-ass) action and family drama.
The characters were likable in their own way but their ultimate motivations were to further their organized crime empire. I have no problems with anti-heroes in general but it was hard to root for the No Peak clan when it was clear that they were almost as awful to the general population of the city. The "bad" clan's plan actually seemed like a pretty sensible reaction to the way the world of the novel is changing, with the heroes being the hidebound conservatives. It makes for slightly unsatisfying reading.
But the worst thing about Jade City was its chronic symptoms of first-in-a-series disease. The plot does come to a climax of a sorts but little is truly resolved and last few chapters do nothing to wrap up the lose ends, instead choosing to set up plot points for the next book. Authors have to make a living, I suppose, but there is a right way to go about it.
Jade City is a well-written and fast paced action novel that has hints of something more substantial around the edges but is at its best when you don't think about things too closely. Recommended.