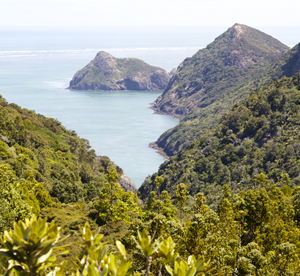 Yet another perfect day in Auckland, and yet another track in the Waitakere Ranges to explore. This time was the ominously named Destruction Gully Track, a short but fun track that descends from the Whatipu Road just after Little Huia.
Although not very long as the crow flies, Destruction Gully Track is quite steep as the cow plummets and is not one of the best maintained tracks. At a couple of points near the bottom the track is augmented by some helpful garden hose that has been fastened to the rocks. By no means is it as scary as the Mercer Bay "Track", but a certain level of fitness is required.
At the bottom lies Makaka Bay, a nice little rocky beach that still has a few signs of what I think was a logging tramway back in the day. There are a few good views of the Manukau Heads across the water as well. Makaka Bay is not well visited so you will have nothing to disturb your calm except the skitter of crabs and the thought of the climb back up.