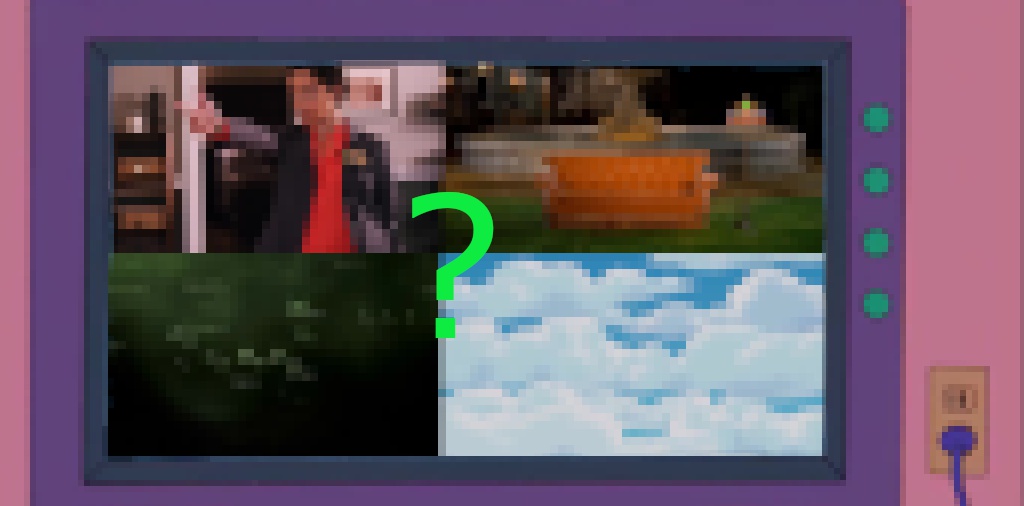 The sloppy splash image I threw together for the quizWow. The TV Opening Sequences Quiz really took off. It didn't get Facebook-level views but a few thousand viewed the page and tried at least one question. I count that a success.
Some care was put into selecting the shows and the specific images used. Having entered many pub quizzes in my time, I've noticed that the best question-setters provide a good ratio of:
Easy questions that most people will know. Show J, for instance.
Medium questions that provide enough context that the answer can be guessed. Show G has some pretty big clues in the image. Show L is very difficult unless you notice the background. Shows B and R are too old for many people to recognize directly but contain elements that could spur an educated guess even if they had only heard of the shows.
Difficult questions to that are hard but fair - you either know them or you don't. Show I is a good example, although the image quality did this question no favors.
I tried my best to select shows so that a wide swath of the population has a chance at recognizing 10-12 of them easily enough. I expected that most serious quizzers would top out at about 15-16, I was shocked and overjoyed when reports of 100% completion arrived after only a couple of hours.
I also put some effort into the Javascript that runs the game. I'm pretty proud of the way that the answers are encrypted - it is completely over the top for a mere diversion but an overkill is a sure kill.
The first thing I do when confronted with a web based puzzle is view the source for cheating purposes and I get a perverse pleasure from denying others the same opportunity. I am not a nice person.
Finally, the questions are not in alphabetical order. Some people thought this was a mistake but lexical ordering is a mere social convention for weak minds - follow me, throw off your chains!
That is enough preamble; here is what you really came for.
Last chance to avoid spoilers.
---
The Answers
| Show | Title | % Correct |
| --- | --- | --- |
| A | The X Files | 36% |
| B | M*A*S*H | 80% |
| C | Brooklyn Nine Nine | 45% |
| D | Friends | 89% |
| E | Knight Rider | 84% |
| F | The Muppet Show | 70% |
| G | Breaking Bad | 84% |
| H | Doctor Who | 16% |
| I | Star Trek : Deep Space Nine | 9% |
| J | The Simpsons but very easy | 92% |
| K | Quantum Leap | 51% |
| L | Buffy the Vampire Slayer | 14% |
| N | Game of Thrones | 54% |
| M | The Fresh Prince of Bel-Air | 69% |
| O | Frasier | 77% |
| P | The Great British Bake Off | 13% |
| Q | Murder, She Wrote | 61% |
| R | The Dukes of Hazzard | 19% |
| S | Sherlock | 9% |
| T | Malcolm in the Middle | 13% |
The percentages are skewed by not showing people who did not attempt a question.
There were a few surprises. I really thought Game of Thrones was a bit of a gimme due to its distinctive intro and relative popularity.
Buffy the Vampire Slayer was a difficult question but I obviously misjudged exactly how difficult. Its opening sequence mostly consists of cast shots with credits plastered over them, something I was trying to avoid. This shot is from the first few frames of the intro - I didn't notice the big logo materializing in the background until I had completed the quiz. I decided to leave it as is to give people a chance to figure it out.
The Dukes of Hazzard is just too old for many people these days. Kids these days have no appreciation for the classics.
On the other hand, I imaged that the typewriter hammers from Murder, She Wrote would be very hard to guess but people seemed to have only a little trouble.
Thanks to everyone who participated, I hope you all enjoyed it as much as I did.